If you've gotten off campus and onto Broadway over the past few days, you've probably seen the Date My School truck parked in front of Barnard and Columbia.
Some questions may develop when you see this truck:
What the hell is that truck doing there?
Isn't Date My School creepy?
What even is Date My School?
Over the past few days, I've tried to demystify Date My School by actually using myself as a "dating guinea pig."
Step 1: The Introduction
When first logging onto DateMySchool.com, you watch a video that defines what this dating game is all about. From the video, you find out Date My School is a service for finding people (possible friends or more than friends) within your university or university area. In order to even be able to use the site, you have to use a university email account. The video also stresses the website's level of privacy: only the groups of people that you specify can see your profile. After the initial signing-in process, you pick from a series options to create your ideal "friend," like his/her gender, age, school, nationality, and major.
Step 2: The Experiment
After punching in my university email and answering a few questions, I was able to set up a profile where I could add pictures of myself and write small descriptions about my personality. I browsed carefully through people from the category I selected, which in my case was men who are interested in women who come from the NYC area. Not long after, I came across a cute boy who goes to Columbia. I clicked on his profile and his interests and personality seemed to really fit mine. I then had the option to IM or message him. I messaged him and he kindly responded rather quickly! Online conversation quickly ensued and it was a great experience. Where you take it from there is your choice!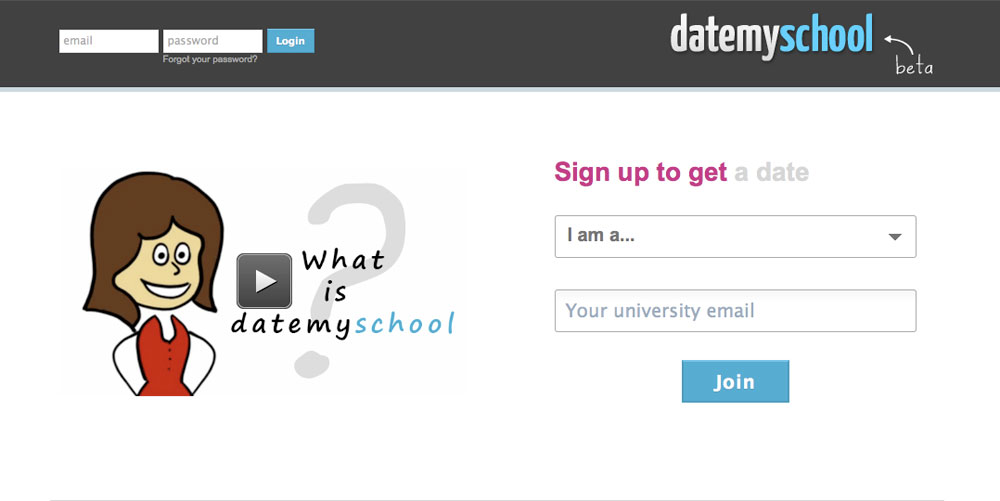 Things to keep in mind when using Date My School
It is a little creepy.
When I first started exploring the site, things were not weird at all--to be honest, it seemed like Facebook. But then, I realized people could see when I looked at their profile and I could see when people looked at mine. Date My School also keeps track of how many views your profile gets, so if a person keeps looking at your profile, you will be notified every time. Which sort of freaked me out. Also, at one point, a random boy IM'd me, and I won't lie... it was weird. Personally, I wasn't a fan of either the tracked pageviews or the potential of being hit up by strangers.
You can either delete or de-activate your account.
Deleting your account is truly getting rid of everything about you on the site, and you are not allowed to create a profile for three months. De-activating is a little more lenient, like the Facebook option.
It's all about your comfort level.
If the whole idea of online dating freaks you out, don't do it. If you are open, even just slightly, to the idea, I'd say go for it. You may find someone, like I did, who was super nice (and not creepy) and find yourself in a great conversation.
Images courtesy of The Frisky and The Triangle.