by Laura K. Garrison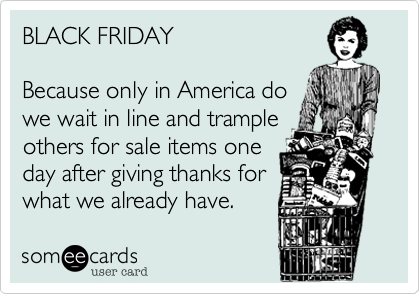 Every Thanksgiving, people across the country sit down with family and friends and give thanks for all the wonderful things in their lives and dig into a bountiful meal satisfied with what they have. And everyone lives happily ever after. The end.
Just kidding. This is America after all.
This Friday, millions of Americans will descend on shopping malls at ridiculously early hours on the hunt for door-buster deals that only happen one day a year. That day happens to be Black Friday, the day immediately after a holiday in which we are supposed to reflect on all the things we are thankful for in our lives.
I've never shopped on Black Friday, and while I once saw the novelty of it, I never will participate in what has clearly become an arms race for retailers. This year, countless stores across the country will start their sales on Thanksgiving Day, including large chains like Sears, Macy's, Target, Kmart, JC Penney, Sports Authority, Old Navy, Toys 'R' Us, and Dick's Sporting Goods. While this may seem like a great idea to the shopaholic in all of us, those stores need to be manned with people, people who have families who want to share Thanksgiving with their loved ones.